You can hear Dan Roberts weekday afternoons on 92.9zzu 3p-7p.  Along with station contests and the occasional surprise guest, you can expect:
4:20pm ZZU Laugh Tracks (hear the best comedians on the planet, with bits hand-curated by Dan).
5:20pm, 5:40pm The Tea (up-to-the-minute entertainment news, rumors and gossip from the world of movies, tv, comics, games and sports).
6:00pm The Remix at Six (fresh takes on modern hit music and old-skool favorites; remixes and mash-ups)
Dan was born and raised in Spokane, is a Central Valley high-school grad, and made his KZZU debut in 1991. Dan was a fan of "The Zoo" from the moment it signed on, so this was a big deal for him!
Dan is married, has two cats, throws pool parties that Molly is not invited to, and loves to write, draw, and play guitar in his free time. Lately, he's been doing stand-up comedy at open-mic nights as well, so you may be treated to–or horrified by–his jokes some night when you're out having fun. Dan also likes to drink craft beer along the Inland Northwest Ale Trail; it's like hiking, only you're sitting and drinking.
In the late '90s, Dan moved to Seattle and went to work for KJR, whose call letters are in the Rock' n' Roll Hall of Fame! Dan is NOT in the Rock' n' Roll Hall of Fame, in case you were wondering, but his resume is not without its highlights: An award-winning commercial writer, producer and voice actor, Dan is also the voice of Dilbert and his pointy-haired boss in animated shorts that you can watch on YouTube. He directed a video he'd rather you not see (It's called "Bikini Barista" by the pop-punk band Quickie—you should totally Google it!). A self-described "Geek", you can also find Dan moderating celebrity and voice-actor panels at Lilac City ComiCon, among other conventions over the years.

In 2013, after sixteen years stuck in Seattle traffic, Dan returned home to ZZU. Seriously, it took him sixteen years to drive 500 miles! He's happy to be back, he's not looking back, and he needs someone to scratch his back (shoulder injury, long story).
From 2013 to 2018,  Dan produced the Dave, Ken & Molly show and hosted mid-days on ZZU.
Hear Dan Roberts weekdays on 92.9 ZZU from 3pm-7pm
And read his blog below!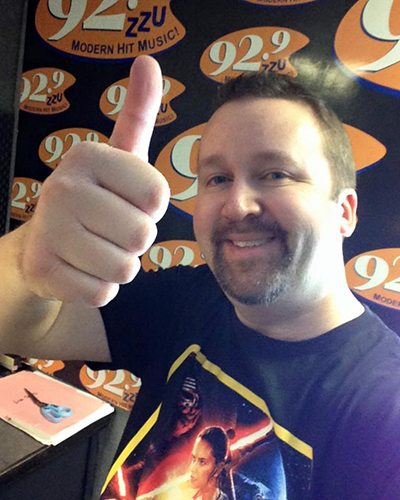 Mon-Fri | 3p-7p